Pellet Stoves Are Better for the Environment and Your Budget - Seekonk, MA
4 February 2015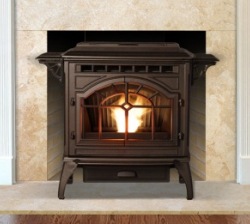 As the expenses for heating homes rise and the complications of climate changes increase, more and more homeowners are looking for an environmentally-friendly heating alternative that will also fit their budget. Due to the advances in technology, there are many more choices for homeowners to keep homes warm and comfortable during winter. However, not all are equal. While some heating options are best for new construction, some are ideally suited for retrofitting existing homes. One of these options is pellet stoves in Seekonk, MA.
If you are looking for a safer and cleaner way to heat your home, pellet stoves are a good bet because they use renewable energy as fuel. Pellets are made of compressed wood byproducts and other biomass materials. This means that there are less particulates in the smoke as it is released into the air so the waste going into the environment is greatly reduced. Using these free-standing pellet stoves reduces home energy costs, because pellet fuel is not expensive.
Heating with pellet stoves is more convenient when the temperatures drop and you want to stay comfortable and warm. It takes just a few minutes to start-up a pellet stove. The auger automatically feeds pellets into the burn pot as needed. All you need to do is fill the hopper daily. You no longer have to hassle with handling firewood and tending the fire.
Many homes can be heated almost entirely with a pellet stove. To find out more about pellet stoves for your home, visit The Fireplace Showcase.
Fireplaces, Pellet Stoves, Inserts MA, RI Blog
---