Pellet Stoves for Better Home Heating - Providence, RI
12 December 2013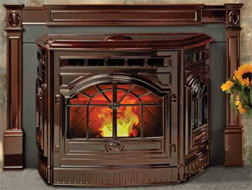 If you are still considering a better and more efficient way to heat your home, it is worth considering pellet stoves or pellet stove inserts. Pellet stoves and pellet stove inserts are a popular way to heat a home because they are inexpensive to run and easy to use. Additionally, the pellet stoves of today are more attractive with a prettier fire than when they were first developed.
If you don't have an open hearth fit for a pellet stove insert, then pellet stoves can be inexpensively installed in any room with an exterior wall. If there is a room in your home that needs additional heat, pellet stoves are a perfect option.
Pellets themselves are easy to store and easy to transport. No mess, no stacking, just empty the bag into the hopper. Your local pellet stove retailer can give you a very good idea on how many tons of pellets it will take to heat your home. This means that pellet heat is easily budgeted too. For example, if it takes two tons of pellets to heat your home, you know that you will spend around $600 every winter to heat your home. No more fluctuating oil and gas prices which cause your heating bills to change every month. This is a refreshing change for homeowners around Providence who have traditionally heated their homes with oil, propane, gas, or electricity.
There are several aspects of pellet stoves and inserts that make them attractive to homeowners. They are fully automated. Unlike wood burning stoves, you don't need to constantly feed the fire. Add pellets to the hopper and let it run. Most pellet stoves require less maintenance than traditional wood stoves as well. Pellets make far less ash than wood stoves, so they require fewer cleanings.
Most pellet stoves come with a blower as well. This allows the heat, which is hotter than a traditional open fire, to be forced into your living area. Often they can be set to work with thermostats, maintaining a more constant temperature than wood heat.
For more information on the right pellet stove for your home, contact The Fireplace Showcase.
Fireplaces, Pellet Stoves, Inserts MA, RI Blog
---