Platinum Pellets Increase the Heating Efficiency of Pellet Stove Inserts in East Providence, RI
6 January 2016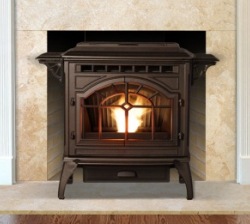 The holiday season may be over but the cold has just begun. Many homeowners in East Providence, RI are still enjoying the efficiency of pellet stove inserts for heat. The fuel for the pellet stove insert is affordable enough that you will benefit from a warm and comfortable blanket of heat at home as well as from significantly lower heating costs during the winter.
Premium grade wood pellets like Platinum pellets are a common choice of homeowners as fuel for pellet stove inserts in East Providence . These high quality wood pellets improves the efficiency of pellet stoves because of the high heat they give off, often higher than 8,800 BTU's.
Every ton of Platinum pellets are 100% natural with no additives. This renewable energy and carbon neutral fuel exceeds specific industry standards. Platinum pellets create extremely low ash amounting only to .35% so you will get even more value for your money when buying this fuel for your pellet stove insert. At Fireplace Showcase they are priced at $259/ton and when you buy 2 or more tons, you will save $5/ton.
To find out more about Platinum pellets contact The Fireplace Showcase.
Fireplaces, Pellet Stoves, Inserts MA, RI Blog
---