Premium Grade Residential Pellets for Your Pellet Stove
15 August 2013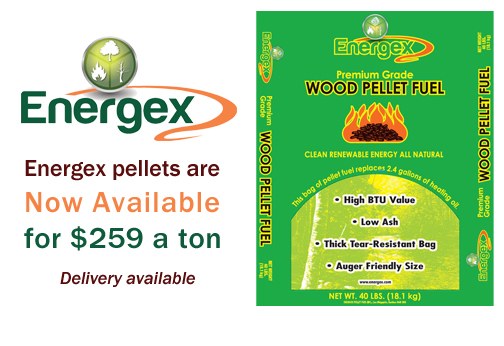 More and more homeowners are heating their homes with pellet stoves for a more economical way to heat. Pellet stoves use renewable energy and cost much less for better heat. Now is the time for homeowners to consider their heating options and, if they already own their pellet stoves, it is also time to place your pellet order. The type of pellet you buy does make a difference.

Energex wood pellets are a premium grade wood pellet fuel that is used for residential pellet stoves and boilers. These pellets are designed also to work well in woodstoves and fireplaces, multi fuel stoves and inserts and in wood stoves that are fitted with a pellet fuel basket.

With Energex you can order either hardwood and softwood varieties of pellets. Both types of pellets are made from clean sawdust that is free of additives and bark.

Energex wood pellets exceed the premium grade standard for pellet fuel specified by the Pellet Fuel Institute. In fact, the softwood pellets are designed to burn hotter and have been tested to yield a BTU value averaging between 8300 to 8500 BTUs per pound. Their average ash content is less than 1% and moisture content is 5% to 6%.

The pellets are packaged in sealed in 40 pound plastic bags and palletized for a tight, weather resistant product. These bags of pellets are easy to store, transport, and use, this is just another reason why pellet stoves are becoming more and more popular.

Please contact Fireplace Showcase for more information on Energex Pellets in Seekonk. Delivery is available.
Fireplaces, Pellet Stoves, Inserts MA, RI Blog
---