Storage Sheds for Seasonal Yard Equipment and Toys – Providence
11 April 2014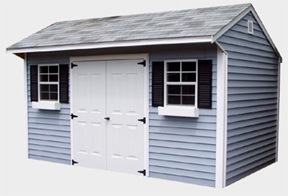 The warm weather is here. It is time to uncover all of that spring yard equipment, and it is also time to put away the snow blower, snow shovels, sleds, and winter gear from the spring. It might also be the time to buy an outdoor storage shed so that you can finally have a spot for all of this expensive equipment.
As homeowners, it gets more and more difficult through the years to find and store all of your yard equipment. We just keep accumulating more and more yard equipment and kid's toys. Often it seems the garage gets overtaken with 'stuff'. Maybe you should consider a storage shed.
As you get ready for spring, consider what you want and need in a storage shed. Do you want to use it only for kid's seasonal toys? Outdoor yard equipment? Seasonal equipment? Lawn furniture and grilling supplies? A storage shed is a great option to keep all of these seasonal items and equipment organized, and out of sight. But, the first thing you need to do is decide what you will be storing in your storage shed.
Once this is decided, put everything into the driveway and decide how many square feet you need. Remember, your shed will have shelving if you would like, so think about vertical storage as well. By deciding on the size storage shed you need, you can also then get a better idea of where you want to place it in your yard.
If you are storing a riding lawn mower, a large gas grill, bikes, or a snow blower you may want to consider a shed with a ramp in the entrance for easy access. Where you will be placing it in the yard may also lead you to other considerations like wood or vinyl siding, if you want windows, and what type of entry door you would like.
Let's face, after years of being a homeowner, we often outgrow our storage space. Storing everything in your garage can take up too much room. At Fireplace Showcase we offer sheds in both wood and vinyl, and in many shapes, styles and sizes. Contact us for more information.