Swing Set Installation – 50% off Thru April!
19 April 2022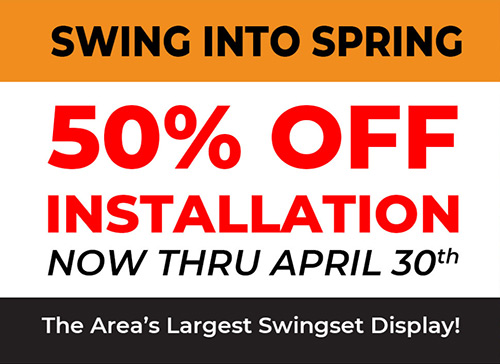 Back in March, we blogged about your new swing set options here in Seekonk and the fact that we're installing new swing sets throughout Seekonk at a full 50% savings through April. Boy did that drive some GREAT conversations and new swing set wonderlands for Seekonk kids and parents alike! One of the great joys of our business is educating you on your future swing set and then installing them for you and your children. The look upon Seekonk children as we hand them "the keys" to their new swing set simply never gets old!
Take a moment to browse (and dream) through our swing set catalog and you can learn about our Eastern Jungle Gym systems. Something else to think about is to contact us to come out and conduct a site survey as part of our consultation services to help you make the absolute best choice for you and your children.
Your children and all of us here at Seekonk's The Fireplace Showcase are ready to roll on your new swing set installation. Let's do this!
Fireplaces, Pellet Stoves, Inserts MA, RI Blog
---