The Many Advantages of Wood Burning and Pellet Stove Inserts – Seekonk, MA
4 October 2013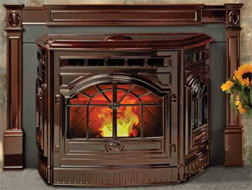 Don't let the warm weather forecasted for this weekend fool you. The temperatures will be dropping very soon, especially at night. Wood burning and pellet stove inserts are a better, easier, more efficient way to heat your home. Not to mention, you will get a $300 tax rebate at the end of the year for buying one.

Wood fireplace inserts and pellet stove inserts are more efficient than open fireplaces and more efficient than older model inserts and stoves. There is nothing quite as relaxing as coming home from a long day at work and sitting in front of the fire to wind down. But there are more benefits to fireplace inserts than just the ambiance.

Wood is an excellent, efficient, and attractive way to heat your home. Wood burning inserts are a cost effective heat source that keeps you warm even when the power goes out. But not only will you save money with wood heat, you add a relaxing and comfortable ambiance to your home.

A wood burning insert is more energy efficient than other heating systems and certainly more efficient than an open fireplace. Fireplace inserts burn cleaner and get more heat or BTU's out of the wood than the cost equivalent fossil fuel.

Wood burning fireplace inserts and pellet stove insert give you a fairly low-cost, comforting dry heat that you can budget for before winter evens starts. If you heat with oil, you are accustomed to fluctuating oil costs all winter long, making budgeting for heat impossible. With pellet and wood heat, you know what you need to buy before the winter starts, and that price doesn't change. You know what you will spend to heat your home all winter.


A wood stove burns efficiently and beautifully and will add atmosphere to any room. Enhance the beauty of that old hearth, add efficiency to your home heating, and fuel with a renewable resource. If you are interested in the warmth and beauty of a wood burning fire contact us at Fireplace Showcase.
Fireplaces, Pellet Stoves, Inserts MA, RI Blog
---