Unique Grilled Burger Recipe for the Fourth of July
2 July 2013
Are you grilling on your new Napoleon Gas Grill this holiday weekend? If so, are you looking for a new and unique burger recipe? Here is one we love.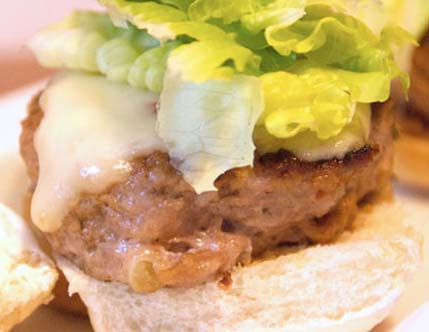 Pork N Goat Cheese Burgers

2 to 4 bamboo skewers, soaked at least 1 hour
2 lb. ground pork, separated
8 oz. goat cheese
1 medium vidalia onion, peeled and cut into chunks
2 tbsp. olive oil
1 tbsp. seasoning salt
4 green onions, sliced
1 tbsp. Better Butter Burger Seasoning
½ cup Luther's Sheep Dip Marinade


Goat's Cheese is a very rich and strong flavored cheese that pairs well with light and subtle meats like chicken and pork. What a great addition to these amazing and zingy burgers!

These burgers are delicious. The heat from the Luther's Sheep Dip was balanced nicely by the creamy cheese, the pork sings with the sweetness of the grilled vegetables.

METHOD
Place 1 lb. of your ground pork into the food processor and process until it is smooth. Transfer the meat to a large mixing bowl and add the remaining pork. Cover and refrigerate until it is needed.
Crumble the goat cheese into a bowl and freeze for about 15 minutes.
Preheat your grill to 400°F. Skewer the onion and red pepper. Brush them with the oil. Sprinkle them with seasoning and grill them until they're lightly charred. Remove the pepper and onion from the grill and let them cook before dicing.
Add the green onion, mixing until fully incorporated.
Reduce the grill temperature to 350°F Add the frozen goat cheese to the pork and mix well. Divide the pork into 6 portions, forming them into balls, then gently flattening them into patties about ½-inch thick.
Grill them on medium heat for 5 to 6 minutes per side, basting liberally with the Luther's Sheep Dip, until they're fully cooked and the cheese is melted and soft.
For added zing, melt extra goat cheese on top and serve with the remaining Sheep Dip for dipping.
Luther's Sheep Dip

2 jalapeño peppers, seeded and diced
2 bay leaves
1 large yellow onion, minced
2 cups apple cider vinegar
1 bottle of dark ale beer (12 oz.)
¼ cup of balsamic vinegar
¼ cup of Worcestershire sauce
¼ cup BBQ Seasoning and Rub
2 tbsp. freshly ground black pepper
1 tbsp. salt


Mix together in a large bowl.

Enjoy and happy Fourth of July

Image and recipe from Napoleongrills.com
Fireplaces, Pellet Stoves, Inserts MA, RI Blog
---