Wood Burning Fireplace Inserts, a Better Way to Heat Your Home – Seekonk, MA
14 November 2013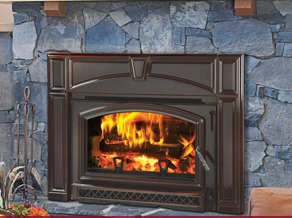 We are in for a winter with temperatures that are expected to be lower than normal. If you are looking for a better, more economical way to heat your home then take advantage of the advice from the National Electric Companies. Electric companies are touting the advantages supplementing home heating systems with wood heat. If you are interested in decreasing your home energy bills then take a look at wood burning fireplace inserts.
Wood burning fireplace inserts can help you save quite a bit of money on heating your home. Fireplace inserts make your open, traditional hearth, and in fact your entire heating system, more efficient. Open fireplaces draw the heat from inside your home up your chimney. Additionally, wood inserts keep your home warmer and can heat rooms that are traditionally cooler. This stops your furnace from running continuously and enables you to stay warmer in rooms that have normally been hard to heat.
Dramatically decrease your heating bill this winter by installing a wood burning fireplace insert. In fact, you can even take your home off the grid altogether with wood heat. But there is another advantage too. Fireplace inserts create a cozy, warm and welcoming atmosphere in your home.
Are you done paying large, fluctuating heating bills? Are you tired of the increasing price of home heating oil? Wood burning fireplace inserts are a great way to cut back on utility bills, increase your home value and decrease your carbon footprint. For a beautiful addition to your home that is functional, beautiful, and practical, add a fireplace insert.
Wood burning fireplace inserts add warmth and ambiance to any room. Contact Fireplace Showcase for ideas on the best fireplace insert for your home.
Fireplaces, Pellet Stoves, Inserts MA, RI Blog
---