Wood Burning Stoves Minimize Home Heating Expenses During Fall and Winter - Boston, MA
13 October 2014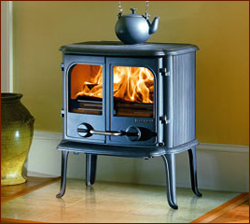 Your home heating bills during the cool fall and the cold winter months obviously increase. But by how much they increase can be up to you. There are numerous ways to conserve energy and save money during in the fall and winter; one is by using a wood burning stove.
Despite the extreme cold weather conditions that may occur this winter, your house can still remain cozy and comfortable. Wood burning stoves in Boston, MA will heat your home efficiently and they are also known for the unique ambiance that they add to the living area. A chimney and fire wood for fuel are all the stove needs to maintain a comfortable temperature indoors.
Wood burning stoves have been around for decades. They are a useful timeless piece of heating equipment. However, over those decades they have dramatically improved in beauty, efficiency and are more eco-friendly.
With wood stoves, even when the power goes out, you do not have to worry about home heating. Light the fire and the stove will continue to heat your home and keep you and your family warm even during winter storms and power outages. Nothing compares to the warmth and the sound of fire crackling as the heat surrounds your home, especially on a chilly winter night.
If you want to have sufficient and efficient home heat to keep you warm throughout the winter, contact The Fireplace Showcase.
Fireplaces, Pellet Stoves, Inserts MA, RI Blog
---