Wood Stoves Continue to Improve and are a More Effective Alternative for Heating Homes– Providence, RI
15 December 2014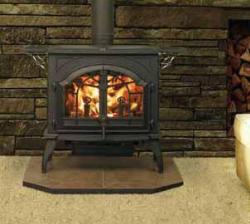 Nothing has advantages quite like wood stoves in Providence, RI when it comes to making your home cozy and comfortable in the winter. When burning, the fire looks attractive while it generates heat with an economical and ecological fuel.
Homeowners are looking for an effective alternative heating source for winter home heating. Wood-burning stoves have always been a popular choice in Massachusetts and all of New England, and they remain popular today, especially for those homeowners who have an easy source of firewood for fuel. The radiant heat of a wood burning stove can warm your living space in a way that hot air systems cannot. Plus, it is possible to generate heat without electricity so your home will be warm and comfortable even during winter storms when the power goes out.
Wood stoves are also now more environmentally friendly than the wood stoves of the past. Efforts have been made that have succeeded to improve the amount of pollutants they emit in the wood smoke, making them an environmentally friendly heating alternative. This makes wood stoves a more effective heating solution than they once were. Additionally, wood burning stoves use a renewable resource for fuel.
A wood stove can be used as your home's main heat source or as a supplemental form of heat. For more information contact The Fireplace Showcase.
Fireplaces, Pellet Stoves, Inserts MA, RI Blog
---