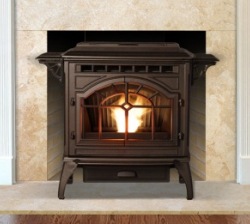 Massachusetts homeowners have been looking for less expensive, greener ways to heat their homes for several years now. Using energy in our homes in unavoidable, especially when it comes to heating and cooling. Traditionally, we have had to rely on fossil fuels; oil, gas, and coal.

But there are alternative heating technologies which are available to heat your home without compromising warmth, comfort and convenience; and one of those alternatives in particular is less expensive, wood pellet stoves.

Pellet stoves are very efficient in keeping your entire home warm even in very cold weather. Wood pellets are considered biomass and are made out of recycled sawdust. Sawdust is a byproduct, waste which would normally end up in land fills.

However, by making sawdust into wood pellets, we are using the waste and saving the landfills, a win win situation. Additionally, wood pellets are very clean burning which helps our environment. Pellet stoves create heat that is inexpensive, using fuel that is inexpensive. But pellet stove have another advantage, they are attractive too.

Therefore, wood pellet stoves give homeowners an affordable, beautiful alternative to heat their homes. By using wood pellet stoves, we can heat our homes, save money and protect the planet. Contact the Fireplace Showcase for more information.
Comments (0)
|
Trackbacks (0)
|
Permalink
|
|