Wooden Swing Set Sale - Providence
24 April 2014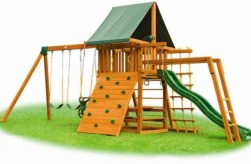 Eastern Jungle Gym is one of the biggest names in wooden swing sets. Right now the Fireplace Showcase is having a sale on Eastern Jungle Gyms displays and the installation is only $199. Even just the names of these imaginative wooden swing sets make you think of fun, childhood play.
Names like Dream, Fantasy, Sky, and Dreamscape make kids and adults want to play. Get your kids outside and help them recapture your child's imagination during the warmer weather. Add a fun, new, play space in your backyard with a wooden swing set. Get their adventures started.
In various sizes and with loads of amenities, the wooden jungle gyms from Eastern Jungle Gyms are designed to fit your yard and your budget. Choose clubhouses, slides, climbing walls, pirate ships, tents or Spiral Tube Slides, and add adventure to your backyard for endless hours of fun.
An Eastern Jungle Gym will enhance your back yard. And the Fireplace Showcase is offering 25% off the display sale. These wooden swing sets are synonymous with quality, strength and value. At Fireplace Showplace, see how you can let the adventures begin! Contact us.
Fireplaces, Pellet Stoves, Inserts MA, RI Blog
---