Wooden Swing Sets for Backyard Play – Providence, RI
21 March 2014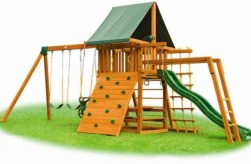 Spring is fast approaching, and right behind it comes summer. Nothing says warm days, and stay-at-home vacations like wooden swing sets. Summer is fun, but it can be hectic. Swing sets and jungle gyms are the perfect way to keep the kids occupied, busy and active during the long days of summer.
Eastern Jungle Gyms has been designing wooden swingsets for 21 years. Their innovative swing set designs, quality Cedar construction and exceptional value is the reason they are the first choice for thousands of customers.
Let you kids enjoy outdoor play and give them a healthy, active lifestyle away from electronics. This is how memories for a lifetime are made. Outdoor wooden swing sets from Eastern are built to last with swings, tire swings, rock walls, gang planks and much more to keep your kids healthy and having fun. There are all kinds of swing set accessories too; steering wheels, telescopes, handles and rings. Make your backyard safe and fun.
You can choose a wooden jungle gym that is simple or expansive, there is an option for any outdoor space. No vacation plans this year? No problem. Bring the vacation to your kids. Eastern Jungle Gym is the best choice for you and your family. From wooden roofs to huge spiral slides these backyard playsets are made so the whole family can use them.
For more information, contact Fireplace Showcase.
Fireplaces, Pellet Stoves, Inserts MA, RI Blog
---