Wooden Swing Sets for Fun and Safe Play
26 May 2017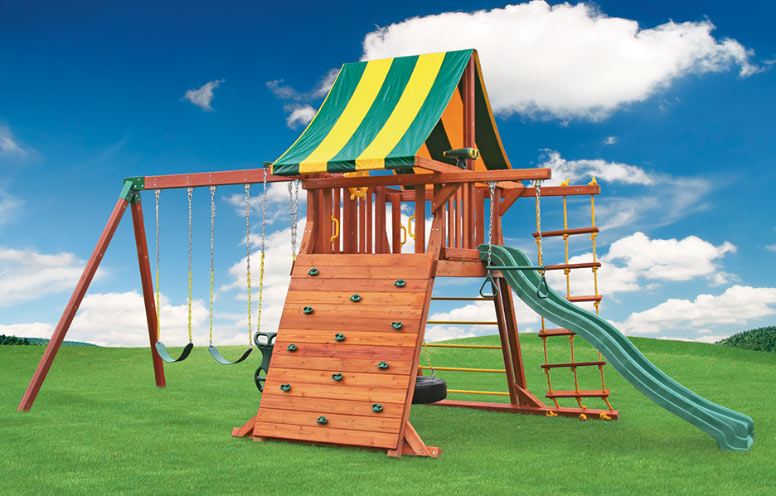 Swingsets are not just for the playground. They are a great addition to the yard where children can play and discover the fun in the outdoors. Surely, they will love children's outdoor swing sets in Seekonk, MA. These wooden swing sets are available in many different sizes and set ups, each offering a unique and exciting experience. Children will absolutely love these swings sets where they can form lasting childhood memories.
Since the main concern of every parents is to keep their children safe, these swing sets are engineered with Thru-Bolt Construction and a flush mount fastener system which makes installation easy while the beams are strong. These kid-wise swing sets strive to promote safe play for kids of all ages through outside activities. They come in various sizes and designs; some are stand-alone swings, while others have built-in slides, climbing bars, and tunnels. And because these swing sets are made from 4 x 6 and 4 x 4 100% cedar, they are resistant to rot and insect damage which means that the swing sets will last for many years.
The swing sets offer many different play types which can range from small to large sets. Some play sets come with charming tire swings. Other play sets feature swings, slide, rock walls, and tent tops in varying sizes. Others have more elaborate features like the two-level Sky Swing Set which has an additional spiral slide. For the ultimate outdoor experience, some sets have all of the above-mentioned features which include double slides, swings, rock walls, monkey bars, gliders and superb multilevel tree house decks with wooden roofs. Picnic tables and sand boxes can also be added. These wonderful play sets are the largest display which can be easily installed in the yard of any home at only $199.00.
The children's outdoor swing sets are a great addition to the fun and exciting activities that kids can enjoy this coming summer. Summer is the time of year to take a break from gadgets. Wooden swing sets can provide the best fun for children. Many summer afternoons can be spent with adventure and imagination for kids of all ages.
For more details about swing sets, visit The Fireplace Showcase.
Fireplaces, Pellet Stoves, Inserts MA, RI Blog
---