The Bari Plus was designed and is manufactured exclusively in Germany by Hase Kaminofenbau GmbH. They are made available in North America in partnership with HearthStone.
Features:
TruHybrid Efficiency
The Bari incorporates HearthStone's TruHybrid™ combustion technology to bring a modern European EPA certified product to the North American market.


European Design
This modern stoves makes a beautiful impression in rooms with minimal furnishings, well-chosen furniture, and clean, streamlined designs.


Thermal Brick
The Bari Plus is lined with thermal heat storage bricks on all sides of the firebox. The extra height of the stove provides space for even more heat storage, ensuring a long HeatLife.


Specifications:
| | |
| --- | --- |
| Ash Pan: | Included |
| BTU: | Up to 35,000 |
| Efficiency: | 76% HHV |
| EPA Certified: | 0.94 g/hr |
| Finish: | Charcoal |
| Firebox Capacity: | 1.4 cu ft |
| Flue Exit Diameter: | 6 |
| Flue Exit Location: | Top |
| HeatLife: | 16 Hours of heat |
| Heats up to: | 1,400 sq ft |
| Maximum Log Length: | 17″ |
| Stove Rotation: | 225 degrees |
| Stove Type: | Hase Wood Stove |
| Weight: | 642 lbs |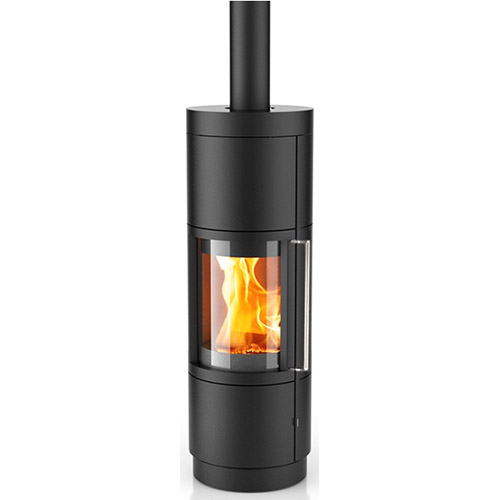 ---