Our largest oven heats up quickly with a powerful gas burner. Or, fire up the oven with wood to impress your foodie friends. With plenty of room for pizzas and the optional grill kit, you'll be inviting the whole team over after your next game.
Features:
Wood or gas
The Patio Oven 5.8 heats up quickly and is fun and easy to use. Start a fire using either wood or gas and you'll be ready to cook in about 20 minutes.


Our largest pizza oven
With 5.8 square feet of oven space, you can cook for a crowd. The wide opening makes it easy to arrange and maneuver multiple dishes at the same time, and the glass window in the oven door lets you keep track of everything.


Convenient accessories
Beyond tool sets and gloves, we offer a range of cooking accessories to expand your patio oven menu. Try the rib rack and grill kit for meats and veggies, and use the smoker box to add some flavor when cooking with gas.


Specifications:
| | |
| --- | --- |
| Finish: | Stainless Steel & Copper Powder Coat |
| Fuel: | Gas, Wood |
| Heat Up Time: | 20 min |
| Oven Capacity: | 5.8 cu ft |
| Oven Temp: | Up to 750 °F |
| Weight Counter Top: | 374 lbs |
| Weight Freestanding: | 519 lbs |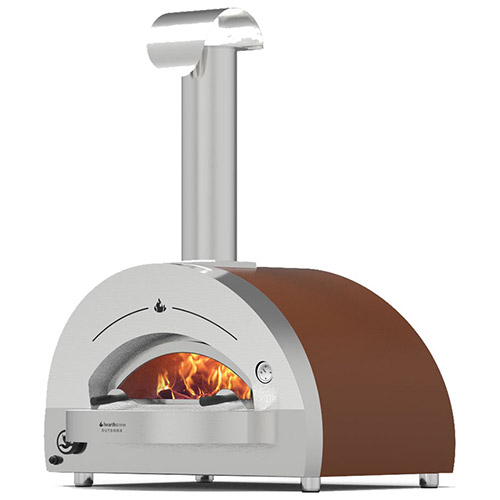 ---