Glass Fireplace Doors for a More Efficient Beautiful Fireplace - Seekonk, MA
8 November 2013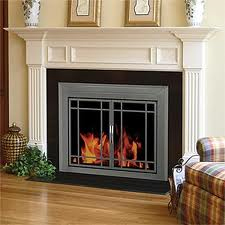 If you use your hearth for ambiance rather than as a heat source, you can still make your fireplace more efficient without spending thousands of dollars. If you have a tradition open masonry fireplace, add glass fireplace doors to increase efficiency. In addition, fireplace doors will make your fireplace more beautiful, changing the look and feel of the entire room.
You don't need a new wood or gas stove or fireplace insert to make your fireplace more efficient. Even if you only use your fireplace intermittently, you should still make it more efficient. Open fireplaces draw the heat from your home up and out your chimney. This wastes money. If you don't really use your fireplace for heat, and you just use it sporadically for ambiance add fireplace doors. And, with the holidays fast approaching, glass fireplace doors can be installed faster than a stove or insert, just in time for your holiday entertaining.
Custom glass fireplace doors can be designed in any shape, style and size. Still far less expensive than a new stove or insert, glass doors can be gorgeous, made with character to beautify your home while making your home more efficient. Open fireplaces are inefficient. You are doing yourself and your wallet a disservice when you use an open fireplace even if it is just for ambiance.
Glass fireplace doors are the answer to a better, easy-to-use fire. Both standard and custom fireplace doors can give you the look you want within the budget that you need. Typically, fireplaces come in one of two styles – arch openings or rectangle openings. We have a selection of door styles to fit each.
Contact Fireplace Showcase for the best solution in fireplace doors.
Fireplaces, Pellet Stoves, Inserts MA, RI Blog
---