The Green Mountain Pellet Grill Difference
31 March 2020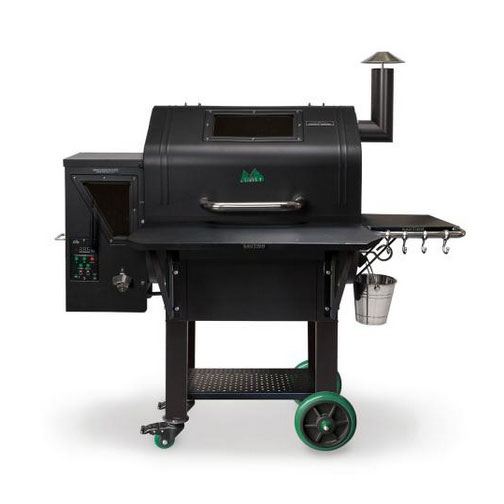 So, we previously covered the Green Egg combination smoker and griller as one of the best tools for the grilling enthusiast. Today, we're going to discuss another transformational product ready to transform your backyard grilling experience. Let's talk about the highly celebrated green mountain pellet grill. Here are just four capabilities of one of the hottest selling grills on the market today:
Dual Fan System (Variable Speed)
Hopper Fan creates positive pressure preventing burn-back in the hopper.
Combustion Fan maintains cooking temps in the most extreme weather and blows most of the ash out of the firebox for less frequent cleaning.
Venturi-Style Firebox creates a burn pot cyclone for maximum heat distribution and complete combustion with no waste.
13.5″ PEAKED LID WITH Massive Grill Space
Peaked Lid is perfect for large turkeys, stand-up chickens, meat hangers, and multi-level racks. Featured here is our Jim Bowie model with a standard 658 sq. in. grilling surface with 2 JB racks and 1 DB rack creating a total of 1,363 sq. in.
Smart Control (Wifi & Server Mode)
Control & monitor grill and food temperatures.
Create and set cooking profiles that are fully customizable and programable for easy repetition.
Set timers and receive alerts to help manage your cooks even better.
Standard Features (Digital Controller)
Low Pellet Alarm lets you know when you need to add fuel
Hot Start Mode in case of power failure or accidental turn-off
Food Probe for safe temps
Temperature Control in 5 degree increments from 150-500°
End-of-Cook Fan Mode to cool your grill down and exhaust most of the ash from the firebox for less frequent cleaning.
We'd love nothing more than to consult you on the Green Egg smoker and griller, the Green Mountain pellet grill series, and/or the Napoleon grill series. There is a perfect grilling solution waiting for you here. Contact The Fireplace Showcase and let's revolutionize your grilling experience.
Source: greenmountaingrills.com